Circular Glass Skylight
Skyspan Circular Glass Skylight is made from one piece of Glass with an aluminium frame to create an unblemished statement of architectural beauty. Size range 600mm – 2500mm diameter.
Our Large Glass Skylight fit all Australian roof types including Corrugated, Metaldecks, Tile Roofs and Concrete Roofs. Suitable for any room where structurally compatible.
Manufacture
Flashing and Frame

Glazing (Complies with AS1288)

---
Glazing
Laminated glass must be used for skylights installed 3m or more above floor level. (AS1288)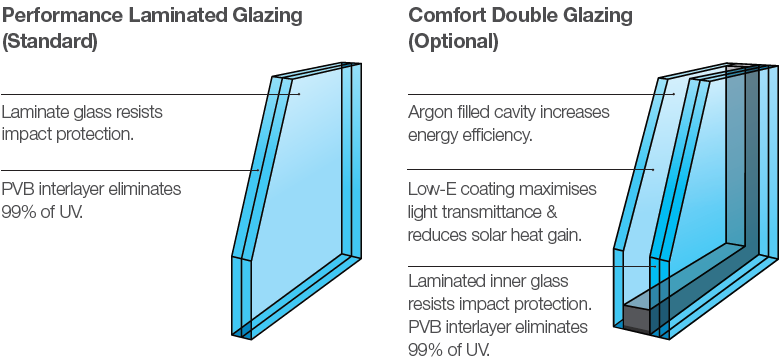 ---
Dimensions
| | | |
| --- | --- | --- |
| INTERNAL DIAMETER | SINGLE GLAZED CODE | DOUBLE GLAZED CODE |
| 600mm Dia | GCSL600AU-SG | GCSL600AU-DG |
| 700mm Dia | GCSL700AU-SG | GCSL700AU-DG |
| 800mm Dia | GCSL800AU-SG | GCSL800AU-DG |
| 900mm Dia | GCSL900AU-SG | GCSL900AU-DG |
| 1000mm Dia | GCSL1000AU-SG | GCSL1000AU-DG |
| 1100mm Dia | GCSL1100AU-SG | GCSL1100AU-DG |
| 1200mm Dia | GCSL1200AU-SG | GCSL1200AU-DG |
| 1300mm Dia | GCSL1300AU-SG | GCSL1300AU-DG |
| 1400mm Dia | GCSL1400AU-SG | GCSL1400AU-DG |
| 1500mm Dia | GCSL1500AU-SG | GCSL1500AU-DG |
| 1600mm Dia | GCSL1600AU-SG | GCSL1600AU-DG |
| 1700mm Dia | GCSL1700AU-SG | GCSL1700AU-DG |
| 1800mm Dia | GCSL1800AU-SG | GCSL1800AU-DG |
| 1900mm Dia | GCSL1900AU-SG | GCSL1900AU-DG |
| 2000mm Dia | GCSL2000AU-SG | GCSL2000AU-DG |
| 2100mm Dia | GCSL2100AU-SG | GCSL2100AU-DG |
| 2200mm Dia | GCSL2200AU-SG | GCSL2200AU-DG |
| 2300mm Dia | GCSL2300AU-SG | GCSL2300AU-DG |
| 2400mm Dia | GCSL2400AU-SG | GCSL2400AU-DG |
| 2500mm Dia | GCSL2500AU-SG | GCSL2500AU-DG |