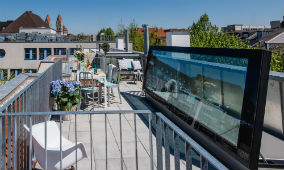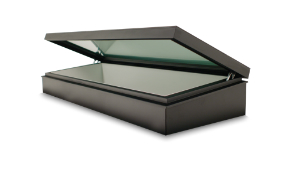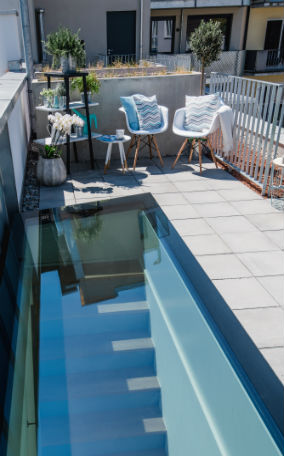 Staka
The Staka TopLight roof access hatch is mainly used to provide a stylish means of access to roof terraces. The glass cover provides extra daylight for the living space below. Its performance in the areas of thermal insulation, sound insulation and solar shading are unequalled. Electrical operation ensures it is convenient and user friendly. The hatch can be operated using the remote control as well as a switch. Due to its generous opening, this roof access hatch is often placed above a fixed staircase.
TopLight roof access hatch
A roof terrace is the finishing touch to your home. An outdoor space where you can enjoy the sunshine and relax is a valuable commodity. The great feeling starts when you open the hatch to your terrace. This was the original inspiration for the design of the TopLight roof access hatch.
A roof access hatch with glass offers a number of advantages, the clearest of which is the amount of natural light. While this makes the room below an even more pleasant space, it also makes the access to the roof terrace extra inviting. Made from premium materials, this roof access hatch helps to make your home as comfortable as possible.
The increasing importance of aesthetics and a healthy living environment shapes the design of our products. In light of this, our TopLight and HighLight products are made with the most sustainable and durable materials, are designed according to the principles of Dutch Design and offer the highest attainable level of comfort. PDF
Features
Excellent Insulated
Soundproof
Sun Resistant
Ultra Glass
Premium Design
Dimensions
| Clearance* | 1000x1000mm | 2000x1000 mm | 3000x1000 mm |
| --- | --- | --- | --- |