Glass Pyramid Skylight
Skyspan Pyramid Glass Skylights provide the visual appeal of a Pyramid combined with the enduring qualities of Glass. Sizes ranges from 600mm up to 4000mm and is available in custom sizes.
Many years of product development and improvements sets apart the Skyspan Pyramid Glass Skylight as not only producing the visual wow factor but also as a product you can trust by exceeding all compliance requirements.
Australian roof types including Corrugated, Metaldecks, Tile Roofs and Concrete Roofs. Suitable for any room where structurally compatible.
Manufacture
Flashing and Frame

Glazing (Complies with AS1288)

---
Glazing
Laminated glass must be used for skylights installed 3m or more above floor level. (AS1288)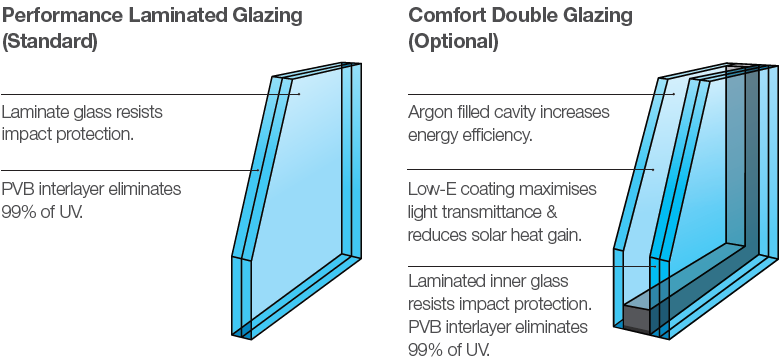 **Ember Guard is needed for roof pitch below 18°.
---
Dimensions
| | | |
| --- | --- | --- |
| INTERNAL OPENING | SINGLE GLAZED CODE | DOUBLE GLAZED CODE |
| 600 X 600mm | GPY6060AU-SG | GPY6060AU-DG |
| 800 X 800mm | GPY8080AU-SG | GPY8080AU-DG |
| | GPY9090AU-SG | GPY9090AU-DG |
| 900 x 900mm | GPY9090AU-SG | GPY9090AU-DG |
| 1000 x 1000mm | GPY100100AU-SG | GPY100100AU-DG |
| 1100 x 1100mm | GPY110110AU-SG | GPY110110AU-DG |
| 1200 x 1200mm | GPY120120AU-SG | GPY120120AU-DG |
| 1500 x 1500mm | GPY150150AU-SG | GPY150150AU-DG |
| 1800 x 1800mm | GPY180180AU-SG | GPY180180AU-DG |
| 2000 x 2000mm | GPY200200AU-SG | GPY200200AU-DG |
| 2200 x 2200mm | GPY220220AU-SG | GPY220220AU-DG |
| 2400 x 2400mm | GPY240240AU-SG | GPY240240AU-DG |